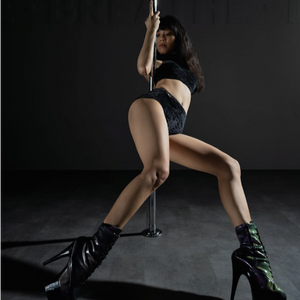 Our seasonal Just Dance classes can be booked as a full 8-week term course (from the drop-down menu above), or as drop-in classes. Please contact us to enquire about booking drop-ins (subject to availability). Drop-in classes are not eligible for any promotional discounts.
Term 6 runs from 23 October to 17 December 2023 and features 4 choreographies (2 weeks each):

Weeks 1-2 (Jen Pau)
Weeks 3-4 (Teresa)
Weeks 5-6 (Jen Pau)
Weeks 7-8 (Farhana)
Prerequisites/Recommended For:
Students who want to expand their dance vocabulary in different genres.
You must have at least completed our Pole Techniques 1, Lyrical 1 and/or Pole Choreo 1 course (or equivalent) and be able to execute upright spinning tricks/combos, including spin climb to pole sit, open jamilla, fast spin.
PLEASE DO NOT SIGN UP FOR A LEVEL THAT YOU ARE NOT READY FOR. WE LEVY A $20 CLASS CHANGE FEE IF YOU BOOK A COURSE BEYOND YOUR SKILL LEVEL. IF IN DOUBT, PLEASE CONTACT US FOR AN ASSESSMENT.