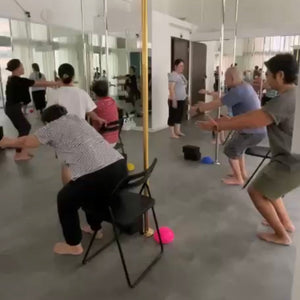 This co-ed strength and mobility class is designed specifically for those aged 55 and above.
Our instructors draw from experience in anatomy, Pilates, physiotherapy and myofascial training, blending movement flows and light weight-bearing/resistance conditioning designed to bring about greater stability, agility and spatial/body awareness. The ultimate goal is a more stable gait, gentle strength-building and better bodily self-support to mitigate against falls.
There are no prerequisites and first-timers of all fitness/flexibility levels are welcome. If there are any known pre-existing medical conditions (eg. asthma, high blood pressure, heart conditions, joint issues), please seek clearance from a medical professional before signing up.
This class is conducted simultaneously in English and basic Mandarin, and moves are often modified for different levels of strength and mobility within the class.

Attire: T-shirt and shorts/leggings/stretchy long pants. Please bring your own yoga mat, personal towel and stretch bands/straps (if you have them).
Term course discounts/promos do not apply to this class. If you're unable to attend a booked class, please inform the studio via email or WhatsApp.